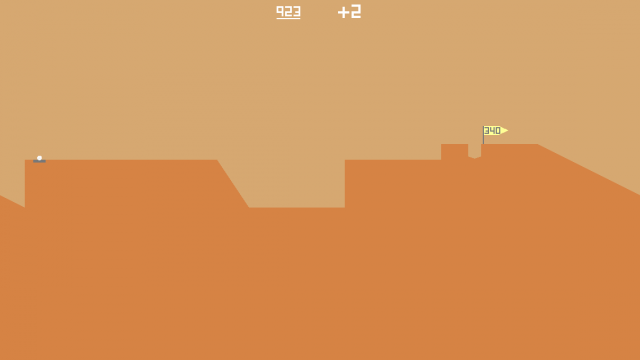 If you want a picture of the future of mobile gaming, imagine a ball rolling along a sandy landscape—forever.
Apologies to Orwell, who meant something much darker with his original quote, but this silly little mobile game I've been playing recently has gotten me feeling a little philosophical about game design, and even life in general. The sublime, minimalist simplicity of Desert Golfing has made the game my go-to mobile time-waster these days, and I can see continuing to play it in quick, stolen little intervals maybe forever.
On the surface, Desert Golfing is an almost insultingly simple game to play. You tap the screen, drag back to set your shot's aim and power via a large white arrow, then let go to send a tiny white golf ball flying over the uniformly sandy 2D landscape. Bounce into the hole, and the landscape scrolls a bit to show your next target. The physics modeling is surprisingly delicate, meaning you often have to give just the right finesse on a shot to get the precise gentle bounce off a hill or wall needed for the ball to roll into the hole.
There are other 2D golf games on mobile platforms, such as the excellent Super Stickman Golf series, but they tend to be weighed down with all sorts of complications in a misplaced effort to add "depth." Desert Golfing sets itself apart with its monastic design simplicity. Every hole is a single screen, with no music, no visible player character, and no background scenery (save for the very occasional cactus). There's no club selection, no items, and no changes in the uniformly sandy terrain.
Read 9 remaining paragraphs | Comments